With the current rush to ban, it may be time to rethink self defense weapons.
The Austrian Windbüchse may be the place to start. The best example of the Windbüchse class of weapons is the Girandoni Air Rifle, of the sort carried by Lewis and Clark in their expedition to survey the Louisiana Purchase. The rifle fired a .46 caliber ball at about the same velocity as a 230 grain .45 ACP round. Though the technology available to people in 1780 was limited, it's not today. You could fire a modern version at full-auto and not be in violation of any law.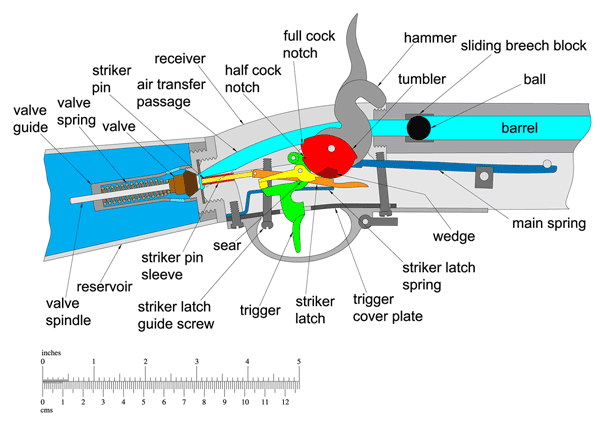 .22 caliber
24″ Rifled Barrel
Uses common paintball tank (Nitrogen or HPA only, no CO2)
Gas remote-line ready
Fires lead pellets or lead round balls
600+ FPS with 16gr lead ball
50 round removable mag
Full or semi operation
Non-cycling charge lever
Ejected reusable shell casings
Completely ambidextrous
4 picatinny rail mount locations
7 pounds unloaded
Full-steel receiverI
Here is another entry into the market.
And this one: