You can't always trust what you read in the newspapers. And you can't always trust what you read on the Internet and on blogs. However, this blog does attempt to cut through the fog to the extent possible and provide clarity.
The US has engaged the Taliban in a species of peace talks that are sponsored by the Emirate of Qatar. Pursuant to that, The Afghan Taliban have received quasi-diplomatic recognition again, for the first time in a dozen years. Today they opened a political office in Doha, Qatar.
(Taliban in Doha) "The Islamic Emirate of Afghanistan simultaneously follows military and political actions and aims which are limited to Afghanistan. The Islamic Emirate never wants to pose harms to other countries from its soil, nor will it allow anyone to cause a threat to the security of countries from the soil of Afghanistan."
News outlets reported that representatives of the Taliban will meet Afghan and US officials in Doha, Qatar, to discuss an agenda for what US officials called "peace and reconciliation" before further talks take place with Afghan government representatives soon after.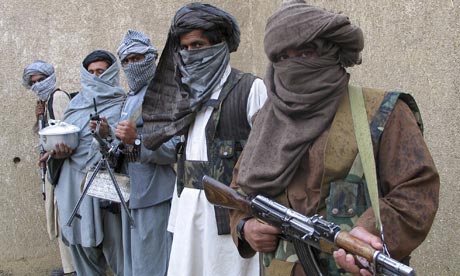 Afghanistan is returning to its roots.
The Taliban office in Qatar has the approval of Mullah Omar, as does the initiation of talks. They made a longer statement than I reported above and in that statement, betray no sense of compromise in the long term agenda. They appear to have dropped their longstanding condition that all foreign troops must withdraw from Afghanistan first before talks could begin. The talks are simply a delaying tactic as US forces leave Afghanistan.
News reports described the lengthy arrangements involving Pakistan, the US, Egypt and others that nurtured the prospective talks with the Taliban, not just Qatar. If talks actually start, the process might provide a window of reduced attacks for an orderly withdrawal of Western forces, instead of a withdrawal under fire. That is probably as substantive as the talks will get and even that is wishful thinking. Omar and the other anti-government leaders can't control their fighters sufficiently to keep any promises of restraint.
I was generally opposed to the US occupation of Afghanistan beyond the initial phase post 9/11 and the expansion of the war under Obama to become a war of national pacification. Anyone who reads history and understands the nature of the place could not help but come to the same conclusion as I have. Mr. Obama wanted to have a war, he picked Afghanistan and now he's withdrawing. For those of you who recall the scene in 2009, it was "Iraq bad, Afghanistan good." Both cost a lot of blood and treasure. And in 2013, what do we have to show for them? Iraq is now the home of a bloody civil war. Over 200 people were murdered in Baghdad last week. It reminds me of Chicago…because the mainstream media doesn't cover either one. Afghanistan will return to a repressive Islamist state that harbors like-minded people.
Hamid Karzai, Crook
The Karzai Government is a puppet government and exists only so long as he has US bayonets to back him up. The moment that the US is gone, he'll be aboard his Gulfstream, loaded with cash and gold, headed for retirement in Switzerland.
Such are the wars that we fight these days. It's not difficult to predict how things will turn out.