It's snowing at the White Wolf Mine…
Ship me somewheres east of Suez, where the best is like the worst, Where there aren't no Ten Commandments an' a man can raise a thirst; For the temple-bells are callin', an' it's there that I would be By the old Moulmein Pagoda, looking lazy at the sea…
The Flag
US Citizens can protest policies, the current government, or anything else they choose, that is their right. (so long as they're not doing it at the Capitol)
When they "protest" our flag and anthem as we saw during the recent Super Bowl, you are insulting the nation we all live in and love, and all those who have served, been injured, or died to keep it free. There is nothing you can do or say that can make your actions anything more than the arrogance of classless people, who care about themselves more than our country or the freedoms for which our veterans and their families have sacrificed so much, to ensure you have the "right" to speak freely. Except that the Bill of Rights is being trashed by our installed leaders. Do you sense my frustration?
Passport
A trash truck rear-ended my Honda Passport and now it's being put back together. I have USAA Insurance (serving veterans). The Trash Company policy is underwritten by Progressive.  So naturally, because they're progressive, they're trying to say that it was my fault that their insured backed their commercial vehicle into my lawfully parked car. Whatever. Sometimes life is like that. How progressive.
Feel the Bern…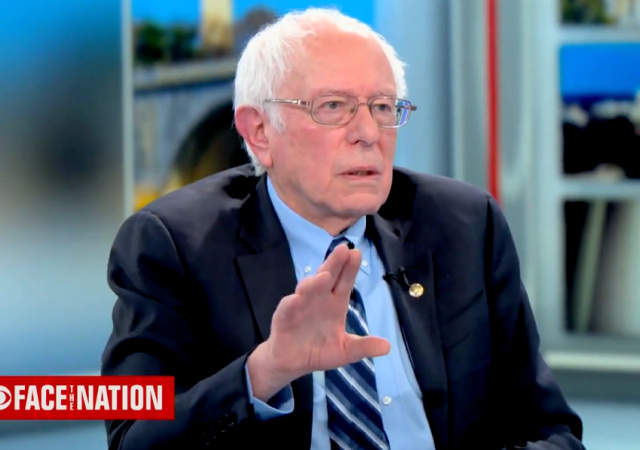 Sen. Bernie Sanders (I-VT) wrote a book bashing capitalism: It's OK to be Angry About Capitalism.  Sanders will venture out on tour to promote the book. Do you think the events are free? One would think so from a man who hates capitalism and claims to be for the people. The tickets cost up to $95
Identify the Tanks
1
2
Your Tax Dollars
Bullet Points:
** Brandon Regime loves Ukraine – "Today, the United States announced $460 million in new support for Ukraine: $450 million worth of arms and equipment from DoD inventories under Presidential Drawdown Authority, as well as $10 million to support ongoing U.S. efforts to provide emergency assistance to help maintain Ukraine's energy infrastructure," a U.S. Department of State spokesperson said in a statement.  Apparently, we will also be funding the government pensions of Ukrainians. How generous our regime is with other people's money.
** Rasmussen Reports Survey: among Republican voters, 45% say they would support Trump and 32% say they would support DeSantis, with 14% saying they would support some other candidate.
** Nuclear Treaties – what are they worth?