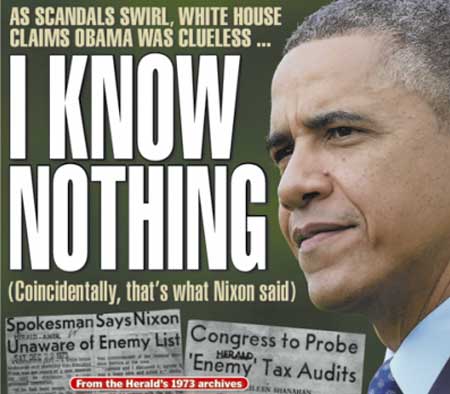 Those of you who are familiar with President Obama are also familiar with this familiar refrain (see left). Attorney General Holder says the same thing every time that there's a scandal and he keeps his job. So did Secretary of State Hillary Clinton — up until she resigned to begin her run for the Presidency. And the American sheeple seemed thrilled to keep this crew running the land for four more agonizing, long, years.

What about a Resurgent Russia?
Russia under President Vladimir Putin is flexing its muscles and spreading its wings and influence. There is
a new program to recruit foreign (to Russia) intelligence contacts
through a school in Niceragua. You can't swing a cat around your head in Brazil without running into Russians who are expanding the Federation's influence there. The Russian fleet is deploying in the Mediterranean Sea (outnumbering all other permanently deployed ships) for the purpose of peacekeeping. We can't get onto the International Space Station without a ride on a Russian rocket.
Even though America seems to have forgotten this candid remark between President Obama and Russian President Medvedev, the US would seem to have given Russia a free hand during the Obama Administration. I'm not suggesting that it's good policy to generate conflict with the Russians, all I'm saying is that the Obama Administration clearly turns a blind eye to Russian ambitions. And what would the President say if you asked him about this. (never fear, the mainstream media wouldn't ever ask him or they'd find their phones tapped)
Operation Fast and Furious Scandal
Benghazi Scandal
"I WAS ASLEEP, THEN I WENT TO VEGAS — I KNOW NOTHING"
IRS Scandal
AP Scandal
"ASK THE AG, BUT HOLDER KNOWS NOTHING"
EPA Scandal
Green Companies who contributed heavily to Obama which are now bankrupt after getting government loans.
Where did a trillion dollars (Stimulus 1 and 2) go?
Is it a coincidence that the Obama Attack Dog IRS is managing ObamaCare?
The Mainstream Media:
Move on, there's nothing to see here.
Clint Eastwood speaks to the Leader of the Free World, the Media's Hero and Nobel Laureate…