Some people feel as if we've crossed over, next stop, the Twilight Zone. I can't disagree. 2020 has been a Twilight Zone year and 2021 has all the potential of being another.
Here in the USA, politicians are vowing to serve man. We saw that on the show, didn't we? Those of us who are old enough to recall, anyway:
"Respectfully submitted for your perusal – a Kanamit. Height: a little over nine feet. Weight: in the neighborhood of three hundred and fifty pounds. Origin: unknown. Motives? Therein hangs the tale, for in just a moment, we're going to ask you to shake hands, figuratively, with a Christopher Columbus from another galaxy and another time. This is the Twilight Zone."
Let's take a moment, here on January 20, by discussing how the Zone started. Pioneering television writer and producer Rod Serling, best known for his iconic series The Twilight Zone, experienced combat in the Philippines during World War II and was profoundly affected—even haunted—by his experiences.
Born Rodman Edward Serling on December 25, 1924, he grew up in Binghamton, New York, where his father ran a grocery. One day after graduating from Binghamton Central High School in 1943, Serling enlisted in the US Army. As a Jew, he looked forward to fighting the Nazis in Europe, and fantasized about becoming a tail gunner in a B-17 bomber. His eyesight wasn't good enough for that, however, and so he chose what seemed like the next best thing: becoming a paratrooper. Even that wasn't easy, since at a mere five feet, four inches in height Serling was considered too small for that duty and had to talk his way into gaining admittance to parachute training.
Assigned to the 11th Airborne Division's 511th Parachute Infantry Regiment, Serling trained at Camp Toccoa, Georgia, under the rigorous oversight of Colonel Orin D. 'Hard Rock' Haugen. Jack Warden, who as an actor would later work with Serling on The Twilight Zone, and served during the war in the 503rd Parachute Infantry Regiment, recalled that "Toccoa was a hellhole. You'd get up every morning at five o'clock and run the hill in full field pack. The hill was about seven miles, almost a 45 degree angle. And the ones that fell out were sent back to the infantry. I remember one colonel said at the beginning, 'Look around now. In three months, you won't see either the person to your left or to your right.'" For Serling that would turn out to be literally true—but for grimmer reasons.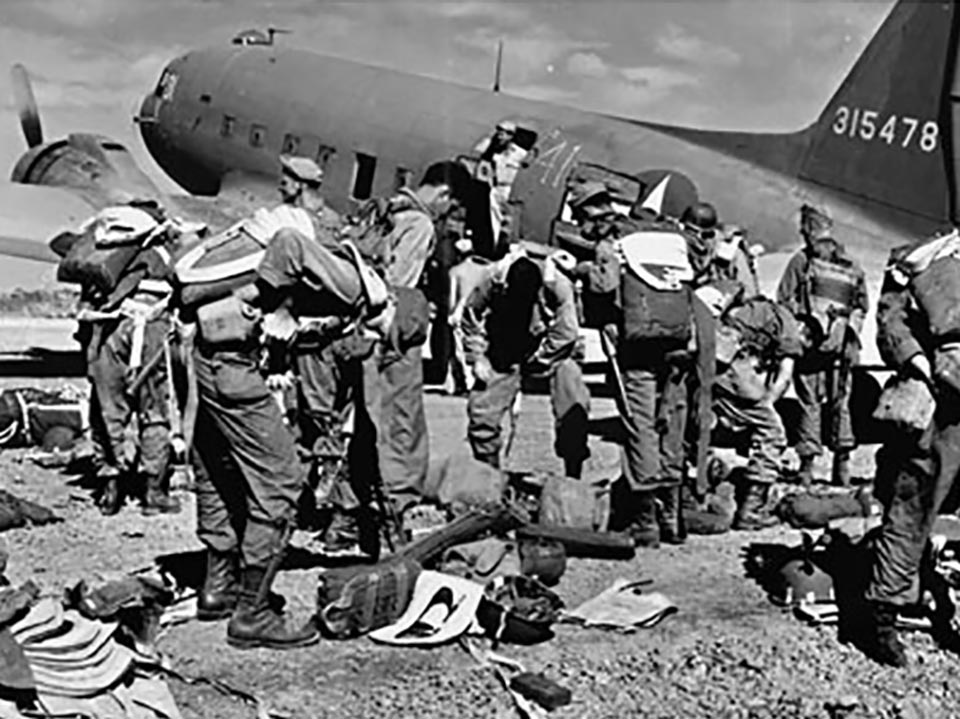 Private First Class Serling made the grade. More than that, he became a passionately dedicated paratrooper. He was known for getting into fights with tankers, fliers, and infantrymen—despite, or perhaps in defense, of his small stature. He even fought as a flyweight boxer in the ring until a knockout ended his fighting career. At this point, the scrappy young paratrooper betrayed few signs of the creative genius that would later make him a household word.
The 11th Airborne Division shipped to California in April 1944 and departed for New Guinea the following month. Here, though, the restless paratroopers spent several months with no one to fight and very little to do. Serling had always been interested in radio and theater, though, and when comedian Jack Benny came by to visit and give a small performance for the 511th Regiment, the young paratrooper wrote a skit and played in a small role onstage. The experience was addictive for Serling, and the skit was broadcast on Armed Forces Radio. But there were more serious tasks ahead.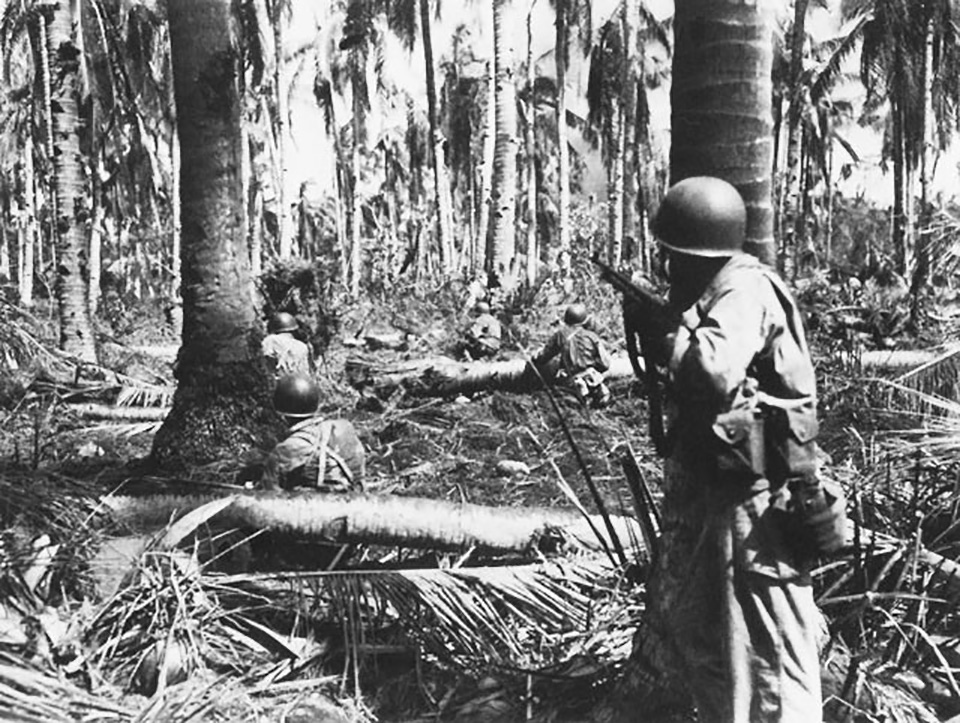 On November 20, 1944, the 11th Airborne embarked and set sail for the Philippine island of Leyte, where the paratroopers would have to fight as infantry against the fanatically determined Japanese defenders. In December, Serling's regiment advanced 30-40 miles along narrow trails through steaming jungles and across high ridges, frequently engaging in combat. Then the fighting bogged down for two weeks of bitter action on a crag named Hard Rock Hill.
After weeks of intense combat, many of the paratroopers, Serling included, began to wilt under the pressure. His experiences as a member of his company's demolition platoon—generally considered suicide duty—left him deeply scarred. In one instance, Serling's good friend, Private Melvin Levy, ventured out to watch an aircraft drop off food crates to the beleaguered paratroopers. Levy was joking about where the food would fall when one of the crates landed on his head and decapitated him as Serling looked on in horror. Although he was wounded twice during the fighting, once in the kneecap with a wound that would plague him to the end of his life, Serling was not medically evacuated.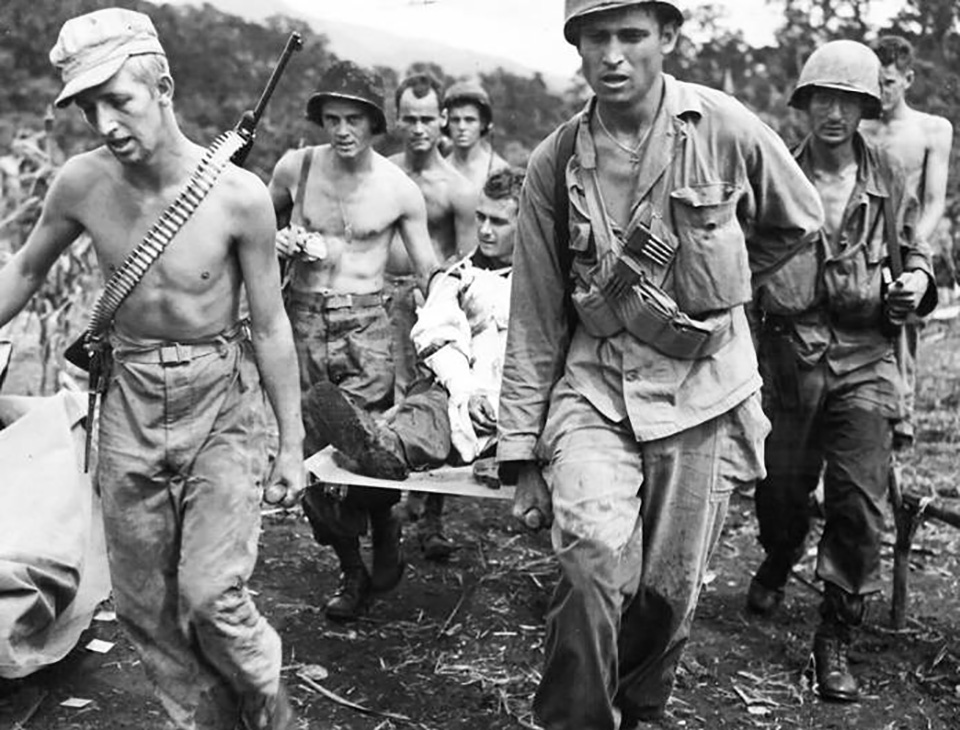 The 511th Regiment finally captured its objective and was relieved in time for Christmas. Serling, still recovering from his experiences, later described that day, which was also his 20th birthday: "It was a gray morning carved out of gray clay and shadowed by fog. It was not just a time—it was a mood—the kind of mood that is part of the province of combat and never conveyed vicariously to the human being who has not lived physically with the tension, the violence, the anguish of protracted war."
But Serling's war was not over. On February 3, 1945, the 511th Regiment carried out a parachute jump—badly executed in high wind, with men being dropped over a large area—and then advanced on the capital city of Manila. Here the 11th Airborne played a major role in weeks of savage fighting to capture the city, where Japanese troops fought to the death and also inflicted many atrocities on civilians. Although he wasn't the unit's finest combat soldier, Serling distinguished himself here on one occasion by risking his life to save a wounded woman under fire.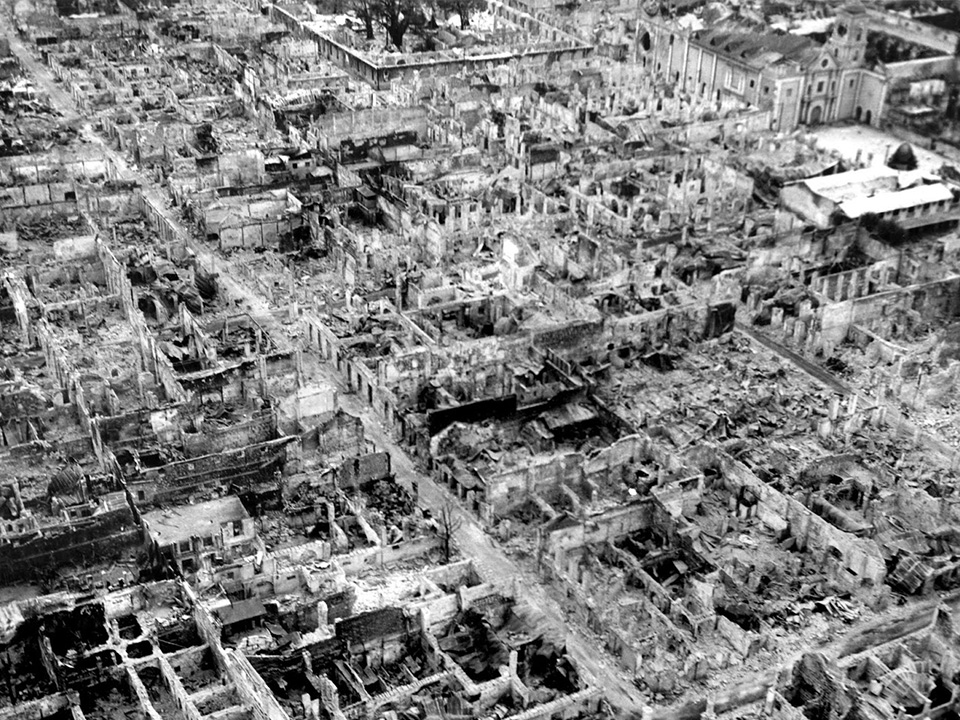 The 511th Regiment suffered 50 percent casualties during this fighting—including Serling, who was wounded by shrapnel. Two experiences in particular remained seared in his memory. During fighting for Rizal Stadium, Serling shot and killed a Japanese soldier on third base in the baseball diamond. On another occasion, a Japanese soldier had his rifle pointed directly at Serling from close range. Stunned and unable to react, the American prepared to die. In a split second, though, another paratrooper stepped behind Serling and shot down the enemy soldier. By the time the war had ended, only one out of every three men in Serling's regiment had survived—fulfilling the prediction made during parachute training.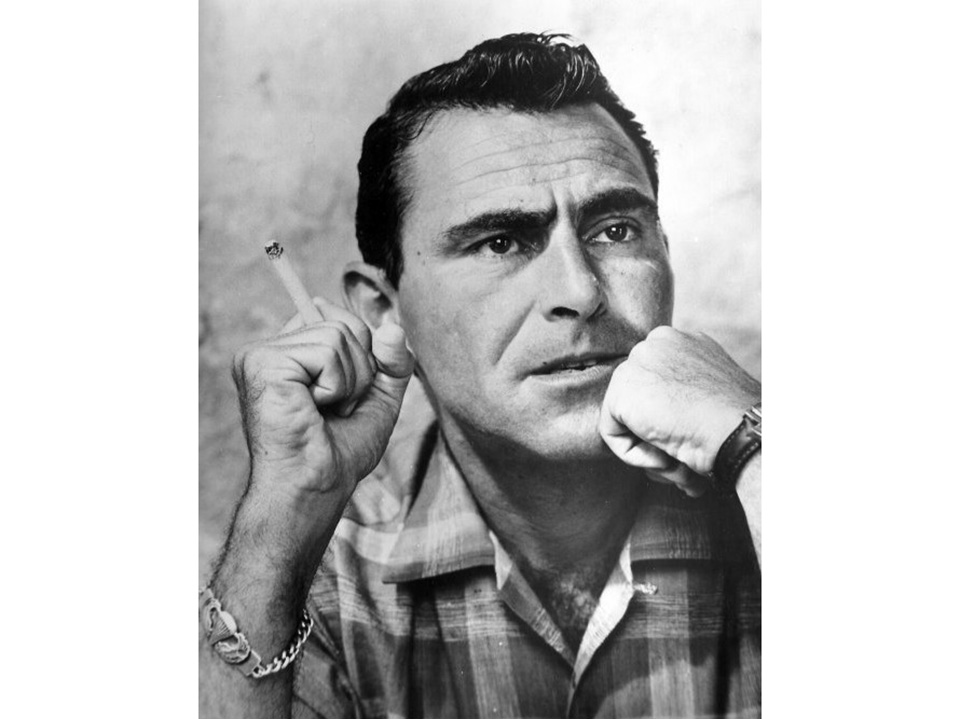 Serling returned home scarred, and to some degree embittered, although he had received a Bronze Star and Purple Heart (x3). His daughter Anne later wrote: "What I vividly recall is my dad having nightmares, and in the morning I would ask him what happened, and he would say he dreamed the Japanese were coming at him. So it was always present, and clearly . . . he got it off his chest in his writing." Finishing his education thanks to the GI Bill, and moving quickly into radio and television, Serling continued to draw inspiration—and nightmares—from his wartime experiences for the rest of his life.
Episode 19 of The Twilight Zone, titled "The Purple Testament," depicts an American lieutenant fighting in the Philippines who has gained the ability to predict which of his men will live and which will die. The title is taken from a line of Shakespeare's Richard III: "He has come to open the purple testament of bleeding war." Serling's prelude, which as always he delivered personally in his trademark style, reads: "Infantry platoon, US Army, Philippine Islands, 1945. These are the faces of the young men who fight, as if some omniscient painter had mixed a tube of oils that were at one time earth brown, dust gray, blood red, beard black, and fear—yellow white, and these men were the models. For this is the province of combat, and these are the faces of war."
For as long as his career continued, Serling was known as "television's angry young man." A firm opponent of the Vietnam War, but also a troubled veteran who smoked up to three packs of cigarettes a day to cope with ongoing stress and powerful memories, Rod Serling died of a heart attack on June 28, 1975 at the age of 50, in Rochester, New York.