Skull-for-Space Shuttle-Swap (only in Russia)
Link to the article (h/t Claudio)
Excerpt: Musa, however, does not simply want to give the vehicle back to Russia. In September, reports emerged that he would only return Burya to Russia in exchange for the skull of the last Kazakh Khan, a man named Kenesary Kasymov. He has emerged as a hero in modern-day Kazakhstan for leading a 10-year struggle opposing the Russian Empire's attempts to colonize the region during the 1840s. A rival ultimately beheaded Kenesary Kasymov in 1847 and sent his head to Russia.
Rigid Frames
The picture is cool, right? I've ridden rigid frame Harley Davidsons and I will tell you that if you're going any distance, they are a very rough ride. The Softail offered a solution that kept some of the looks with making the ride and vibration a bit less brutal. People who see me on my Ducati Diavel may feel that I don't have a place in my heart for the old hogs and that wouldn't be the case.
Maps
The political scale with one side fascist and the other side communist makes no sense to me. Totalitarianism is on one side of the scale (in whatever form including theocracies like Iran) and free is on the other. The map is just here for your reference.
Will Europe go for the Bill Gates, vat-grown, simulated meat?
Women, Wear your Masks!
2300 years ago, long before Islam, Arabs discovered that forcing people to cover their noses and mouths, broke their will and individuality, and depersonalized them. It made them submissive. That's why they imposed on every woman the mandatory use of fabric over her face.
Then Islam turned it into the woman's symbol of submission to Allah, the man owner of the Harem, and the King.
And in Red China
There is a tendency for smugness and self-delusion among all human beings, but the Chinese made it an art form over the past twenty years. (ZeroHedge)
It's strange that so many smart investment quants were suckered by the communists – believing the groupthink. This is an excerpt. from the larger article linked above. Maybe worth a read?
Quantifying this dire scenario, Goldman envisions a China where new property starts tumble 30%, completions drop 10% alongside sales volumes and ASPs. If this scenario comes to pass it would also wipe out at least 4% of China's 2022 GDP, potentially resulting in a full-year contraction at the second-largest economy in the world, an outcome that would have catastrophic implications for the rest of the world…
With that preamble in mind, we bring readers' attention to a little-noticed report in Shanghai Securities News, citing China Real Estate Information Corp. research (link), which revealed that more than 90% of China's top 100 property developers' sales declined in September by an average of 36% from the same period last year…
We had to do a double-take when we saw this because these are absolutely terrifying numbers and are, to put it bluntly, scarier than Goldman's "worst-case scenario"; what's worse this sudden collapse in China's property market is taking place before Evergrande has defaulted, an event which would lead to a glacial freeze in the property market as potential buyers hold off expecting liquidation firesales from the property giant in hopes of getting bargains. The problem is that in addition to being the world's largest asset, China's property market is also the world's largest Ponzi scheme, and without the constant inflow of new capital it would implode, especially when factoring in the 90 million vacant apartments which just sit inert and which would promptly be dumped by anxious owners, flooding the market with excess inventory and sending prices crashing.
It didn't take long for the market to notice what is going on and otherwise healthy property developers, which are in far better financial health than Evergrande, promptly collapsed: China Jinmao Holdings plunged as much as 10%, China Overseas Grand Oceans Group tumbled -7.9%, Sunac -3.7%, Country Garden Holdings -3%, Agile Group -2.8%, and so on.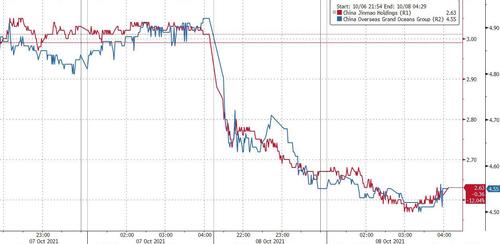 Identify the Tank (there has to be a tank)