Life is always challenging if you're a political hack.
It's so comfortable to lie for a living but once in a while, your bullshit is pointed out and the only thing you're left doing is doubling down. Such is the case with Senator Rand Paul berated Joe Biden's Health and Human Services Secretary Xavier Becerra Thursday, accusing him of ignoring science and displaying authoritarianism by denying Americans the right to take their own medical decisions. (see ZeroHedge)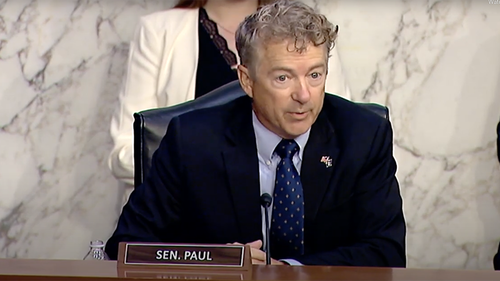 The Senator specifically addressed the government's refusal to accept that natural immunity to COVID is as effective, and probably more effective, than current vaccines, as well as Becerra's own description of those who have pointed out this fact as 'flat Earthers.
Becerra, a political operative and hack lawyer from California was, by all accounts, circling the drain created Gov. Newsom, until he was plucked from that career-ending situation by Vice President Ho and deposited into the DC Swamp as Secretary of Health and Human Services.  The man is not qualified to pour sand out of a boot yet he's one of the government's front people in the political war against medicine.
"Maybe in a free country, I ought to be able to make that decision," Paul urged. "You sir, are the one ignoring the science. The vast preponderance of scientific studies, dozens and dozens, show robust, long-lasting immunity after infection," the Senator further charged, demanding that Becerra should apologize for being dishonest.
Nebraska has become the first state saying that it will not comply with the Biden administration's plan to allow the IRS to view any transactions a person makes a transaction over $600.
Nebraska State Treasurer John Murante said that they will not comply and if the administration sues he will take it all the way to the Supreme Court.
Murante, along with the treasurers and auditors for 24 other states, recently sent President Joe Biden a letter opposing the proposed plan.
"As State Treasurer, I have an obligation to safeguard the personal information of hundreds of thousands of these accounts and it's absolutely wrong to ask American citizens who haven't even been accused of wrongdoing to turn over their private bank information to the federal government. There's no excuse for it," Murante said on Thursday.
How far will YOU go?
Breaking – FBI Spying on US Citizens
"Our further audit work identified over 200 additional instances of Woods Procedures non- compliance—where Woods Files did not contain adequate supporting documentation for statements in the
29 applications—although the FBI and NSD subsequently confirmed the existence of available support elsewhere. We also identified at least 183 FISA applications for which the required Woods File was missing or incomplete."
Read the Inspector General's findings at the link below:
https://oig.justice.gov/sites/default/files/reports/21-129.pdf
Caucasian Blunderbuss
Dated 1870, snaphance lock, silver mount with engraved foliage accented with niello, short stock inlaid with bone, and mother of pearl.
The snaphance lock was a development of the earlier snaplock, contemporaneous to the miquelet, with both evolving into the later flintlock. It featured the same general configuration people know from the flintlock, with the main mechanical difference being an automatic pan cover that would open as the gun was fired, as opposed to the frizzen doubling as a pan cover, and the lack of a half-cock position. The so-called true flintlock never really replaced these older types of lock around the Mediterranean, as we can see from this late example.
Ahmad Shah Massoud inspects PKM in Panjshir Valley, 1990
Listen
Weaponized these days against targeted "domestic terrorists"…