Barack Obama Sr.,
Polygamist
The President's father, Barack Hussein Obama Sr. was already married when he left Kenya to study at the University of Hawaii, where he married again. His American wife-to-be, Stanley Ann Dunham, was not yet 18 and unaware of his marital situation when she became pregnant with his namesake son in 1961.
"The line of polygamists in Obama's family can be traced back generations in western Kenya, where it was an accepted practice within the Luo (pronounced LOO-oh) tribe." His great-grandfather, Obama Opiyo, had five wives, including two who were sisters. His grandfather, Hussein Onyango, had at least four wives, one of whom, Akumu, gave birth to the president's father, Barack Obama" before fleeing her abusive husband. (Washington Post)
It is also well known that Democrat Senator from New Mexico, Tom Udall, and his cousin, Senator Mark Udall (D) from Colorado, come from a long line of polygamists. But that was never an issue because they are Democrats.
In the Udall family, politics stretches back generations. Mark's and Tom's great-grandfather, David King Udall, was a pioneer Arizonan and a Mormon polygamist who was sent to federal prison (on testimony of an ancestor of Mitt Romney's, family lore has it). He was pardoned by President Grover Cleveland, then tossed back in jail. This time, it was Barry Goldwater's grandfather who got him off the hook. (Mens Journal)
Polygamy is only ever an issue if the politician is Republican. And early in the campaign, before Democrats understood President Barack Obama's profound polygamous family history, they took a number of cheap shots at Governor Mitt Romney. Romney's great grandfather, Miles Park Romney, fled to Mexico after the 1882 passing of the Edmund Act, which banned polygamy in the US. He married his fifth wife after the Mormon church formally banned the practice in 1890. The Romneys were some of the first Mormons to settle in the border state of Chihuahua When the Mexican Revolution hit Chihuahua in 1912, many of them returned to the United States.
Does a family history like Obama's, Udall's or Romney's matter? No.
Former President Bill Clinton,
not technically a polygamist
President Bill Clinton, Democratic Party icon, had literally dozens of girlfriends (sometimes four or five at the same time) while he was married to Secretary of State Hillary Clinton. He only got into trouble about it when he declared under oath to Congress that, "I never had sexual relations with that woman." That was before Monica Lewinski produced the now infamous blue dress, with the presidential genetic material all over it. So while President Clinton was not a polygamist in the the sense that he was married to many women at the same time, he was in every other sense.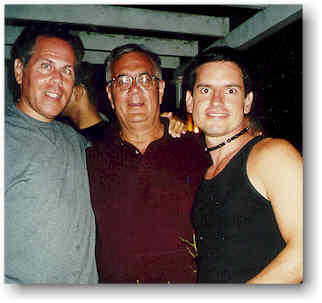 Congressman Frank and
previous wives
Then there is Congressman Barney Frank (D-MA) who was a polygamist of a different nature (sorta) until his 'wife', Jim Ready, made him an honest man earlier this year. Nobody knows if Congressman Frank will undergo gender reassignment surgery now that he's left Congress.
And with so much water under the boat these days, people are leaving polygamy out of the presidential campaign, as they should. However, I prepared this blog to put the "progressive" attack on Governor Mitt Romney's family history into perspective.